Landing Pages
That Convert
30% to 3x conversion lift
Ideal for ads, email, text marketing
5 min setup, no tech required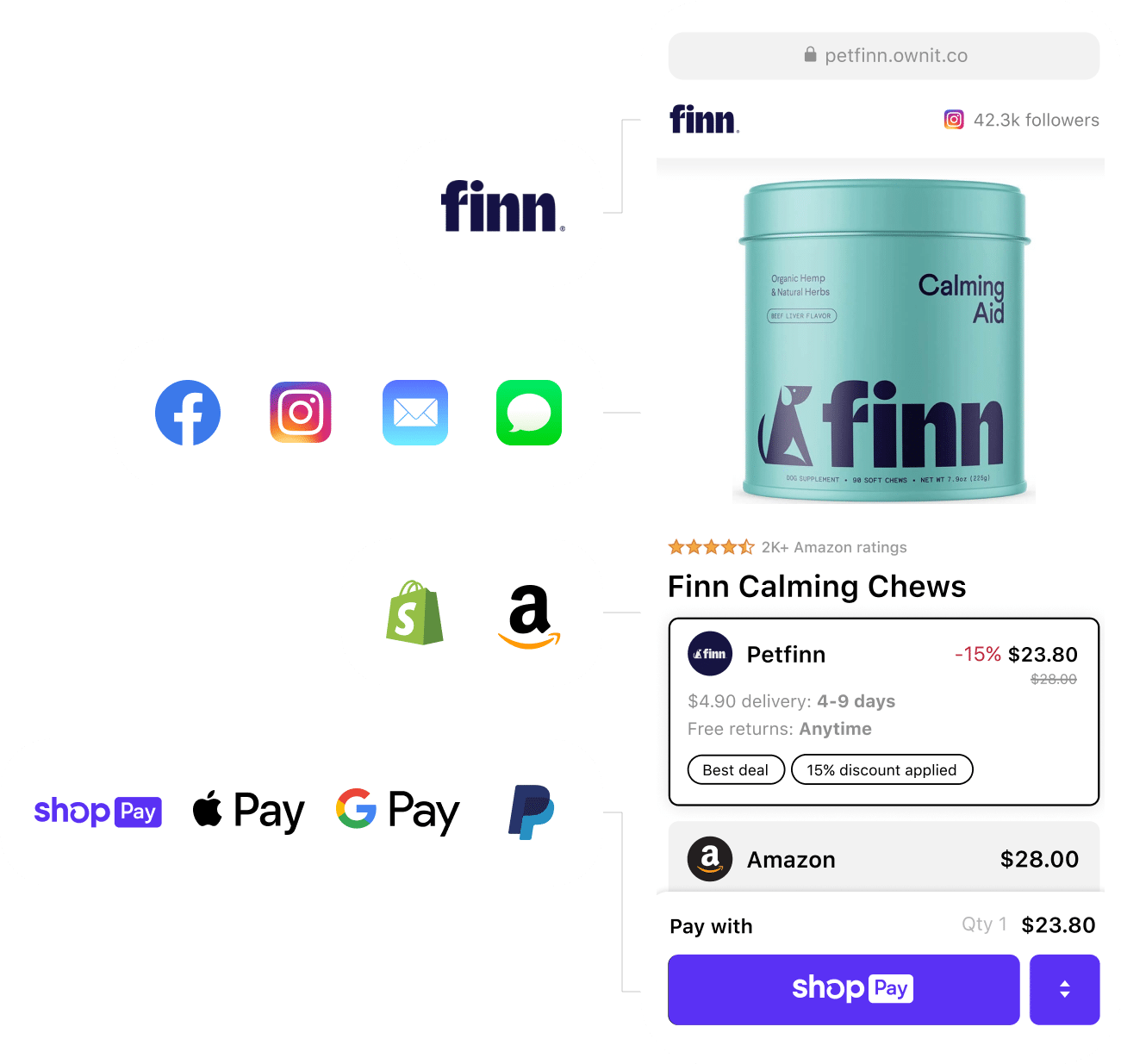 Lift Conversion
Increase conversion from 30% to 3x by selling your products with one tap at the point of discovery. No setup fees.
Landing Pages
Seamlessly embed Ownit landing pages anywhere you place a URL. 5 min setup. Works with your existing eCommerce site.
Your Products
Ownit offers landing pages for all your products to market the right variant to the right user at the right time. No tech required.
Your Audiences
Ownit offers one-tap checkout from paid ads, email, text, and influencer marketing with end-to-end conversion tracking.
Your Stores
Ownit connects with your eCommerce store and retailers to present shoppers with live pricing and delivery options.
Your Payments
Ownit accepts all major forms of payments and, unlike other one-tap checkout companies, requires no user sign up or login.
Get your landing pages
30% to 3x conversion lift
Ideal for ads, email, text marketing
5 min setup, no tech required
No setup fees
Testimonials
Colin Darretta
Co-founder, CEO at Finn
"The product Ownit has built has the potential to be a meaningful value add for DTC brands. The results so far with email and SMS are really promising and have us excited to expand our efforts into paid ads with Ownit."
Julian Cheng
Co-founder, CEO at kitavaMD
"Ownit's Connected Checkout links have performed well beyond our expectations. The checkout flow is now a breeze, conversions are up triple digits, and our decreased CAC allows us to offer better deals to customers."
Sean Busch
Co-founder & CEO at Puracy
"We really like the Ownit product because they've created a streamlined way for customers to select the best purchase option for them, without leaving your DTC site. This leads to higher conversions and, in our case, a greater likelihood of repeat purchases."
Shawn McGowen
CEO at Leather Honey
"As a family-owned brand that has been reviving leather since 1968, we constantly strive to provide customers with premium leather care products at reasonable prices. But the increasingly high cost of customer acquisition has made that goal harder. We're thrilled that Ownit is reinventing the checkout experience by removing purchase decision friction and making it easier for customers to one-tap buy. This is a big win for an omni-channel brand like ours."